A bad day of fishing is better than a good day at work.

Having recently registered with TASSPHOTO, I happened upon some March 20th photos of Ice Fishing on the Volga River in the Ivanovo region. They seemed well worth sharing and lead me into the topic of Russian Ice Fishing.
(Photo ITAR-TASS / Vladimir Smirnov)
Now, I will say that people in northern states of the US definitely enjoy ice fishing. I am sure it is quite popular in Canada also. The people in these photos seem to be well prepared and are on the ice in March, when I am sure the ice is sufficiently thick to support people and equipment.
However, Russian ice fisherman often have this peculiar habit of getting out onto the ice as early as possible ... or as late as possible. It happens here in the US also - but the bravery or foolhardiness of Russian ice fisherman is not to be surpassed. Below are some photos of Lake Nero in Rostov Veliky ... ice fishing in OCTOBER. After a mostly mild fall, the region had a cold snap and people were out on the ice as quickly as possible ... even though it was only a few centimeters thick.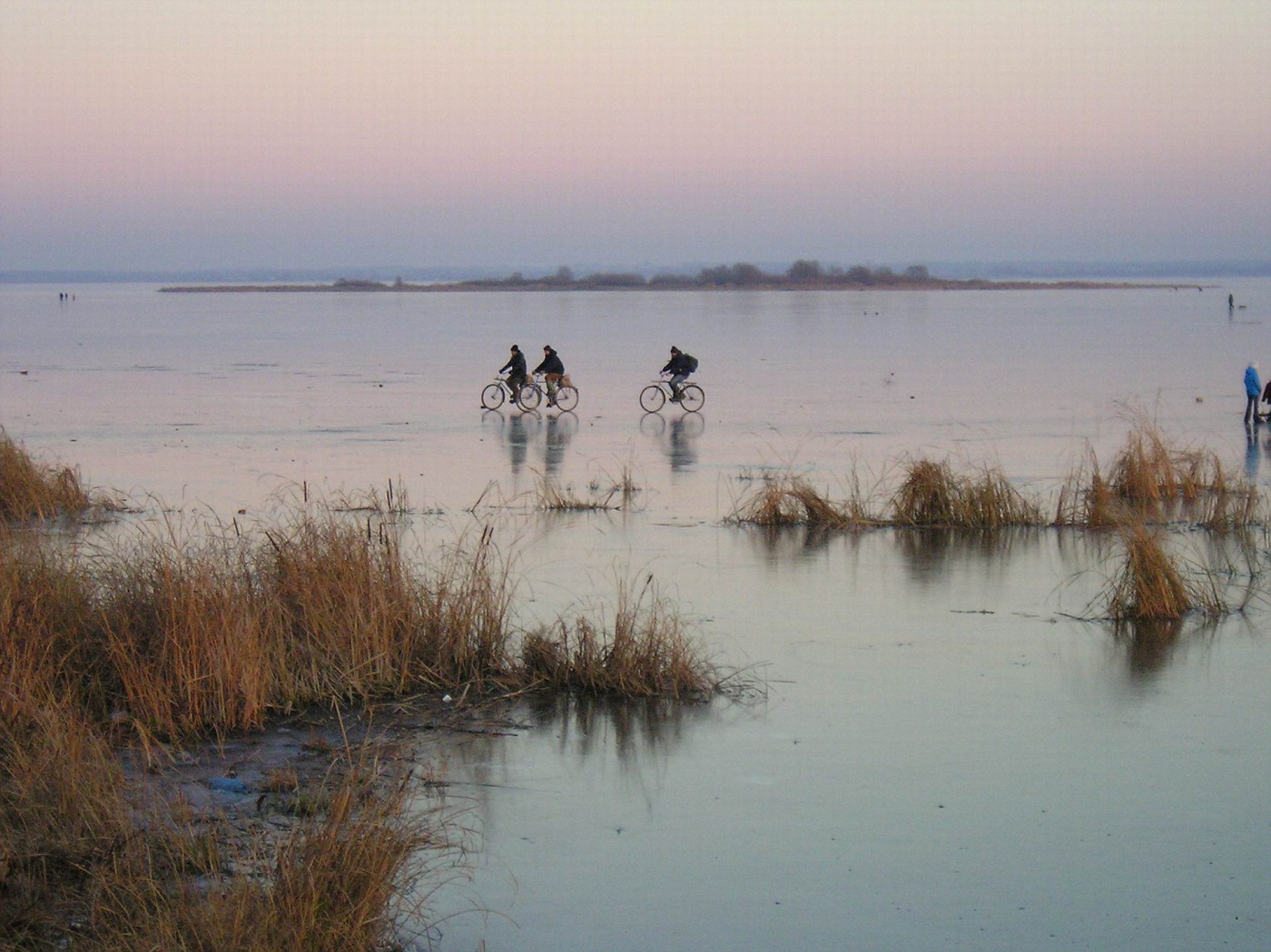 Other examples include this Australian
radio program transcript
about a March 2000 incident near St. Petersburg. I think her introduction is a bit black:
There are many interesting ways to die in Russia: Join the army and get beaten or starved to death; drink the bootleg vodka that grandmothers sell on street corners; or walk under the path of a giant icicle plummeting from a rooftop during the spring thaw. But perhaps the most absurd manner of death comes with a favourite Russian winter pastime, ice fishing.



On this 20 metre-wide ice flow in a shaded bend in the Moscow River, Nickolai, a 30 year veteran of ice fishing, uses a huge hand drill to forge a six inch wide hole in the ice. But this is not about fishing for food.

Nickolai says he's got just one fish - that tiny one lying on the ice there, colourful but barely four inches long. And that's what most ice fishermen catch - barely enough to feed a cat. They're not bothered by the paltry returns though. They just like going through the fishing motions.



And in fact it's the fishermen themselves that often find themselves caught, perilously stranded when ice breaks away unexpectedly.

And that's exactly what happened to more than 1,000 fishermen on Lake Lardiga (sic) near St Petersburg this week. Russian rescue helicopters hauling the men to safety. Some were pulled from pieces of ice no bigger than an average office desk, after rising temperatures brought an unforeseen melt. Eight men died. One incident last year claimed 20 lives. And it happens every winter, several times a season. The authorities often alerted by mobile phone calls from those in peril. Sometimes they're even found floating out to sea headed for Finland.

It leaves Russian officials exasperated.

RUSSIAN OFFICIAL (interpreted by Linda Mottram): What to do in this situation, I can't imagine, says Alexander Affanasiev [phonetic]. He works for St Petersburg's governor, Vladimir Jakolev [phonetic] who expressed his frustration this week by suggesting that maybe the survivors of this latest ice fishing calamity should be flogged to see if that brings them to their senses.

Back on the Moscow River, the ice fishermen seem to agree that their St Petersburg cousins take too many risks in unpredictable conditions. But Valodia [phonetic], one of the fishermen, says there are no big risks on their river.



VALODIA (interpreted by Linda Mottram): He says he's floated away on broken ice twice. He says he simply waited until he reached the opposite bank, climbed out, then took a trolley bus back to resume his fishing.



Yep, that's right Volodia ... it's always the other guy who is being foolish!


Johnson's Russia List has a reprint of Baltimore Sun newspaper column
by Douglas Birch and Elena Ilingina regarding a similar incident in 2002. I've reprinted almost the entire article here; the stories were so good it was difficult to know what to remove:
The wind was blowing, and the snow was blinding. That was when, last weekend, a village-size piece of the annual ice shelf in the Gulf of Finland broke free from shore, carrying about 200 terrified ice fishermen with it more than a mile into open water.





Then the floe split in half, frightening the fishermen all the more.





The icebreaker Semyon Dezhnev arrived to rescue most of the hapless anglers just in time. The rest were plucked from the ice by helicopter.





All in all, it was a typical winter weekend on the Baltic coast, where ice fishermen are passionate enough about their punishing sport to risk drowning each time they venture onto the ice.





Every winter, the open waters of the gulf and of nearby Lake Ladoga freeze over, creating shelves of ice that stretch miles from shore. The platforms form an irresistible lure for tens of thousands of anglers who trek to the water's edge on foot, by bicycle, even in cars.





Storms, unseasonably mild weather and icebreakers can shatter the ice. Huge floes break free without warning and float into deep water. Any fisherman unlucky enough to be on such a floe may find himself clinging to smaller and smaller fragments, until he disappears beneath the waves. Abut 60 fishermen drown a year, rescue professionals say.





Alexei Giryakov made the 2 1/2 -hour trip that morning from St. Petersburg by train and bus with three neighbors and a couple of bottles of vodka. He recalled last year, when he found himself drifting out into the gulf in a storm, his floe rolling with the waves. For four hours, he watched and felt the ice break up beneath him. Finally, a helicopter appeared through the squall and he clambered aboard.





Now, he stays within a mile of shore, never venturing to the black ice at the water's edge. "We're still risking our lives," he said.





Why ice fish?





"We just like to relax, to breathe fresh air," said Anatoly Rolov, 67, who used to work as a mechanic in a St. Petersburg factory. "We can meet with our comrades, talk about fishing, about life, about everything."





On Friday, Rolov fished alone. His blue eyes blazed in the bright sun. He warded off the cold with layers of clothes, a worn leather coat, fur hat and thick boots. Sitting on his tackle box, his boots planted on the ice, he leaned over every few minutes to scoop out the ice clogging the hole he had drilled. His hands were so cold he had trouble baiting his hook with mosquito larvae. On a good day, he might catch a dozen smelts - each fish only 4 or 5 inches long.





A few wealthy fishermen drive luxury cars out on the ice and bring fancy tackle. Once in a while cars plunge to the bottom. But Rolov is more typical of the fishermen here - a pensioner with little but time.





Georgy Tsagareshvilli, a former construction engineer at a Soviet research center, fished nearby. Now, he said, tossing aside his cigarette butt, "I'm guarding a damn parking lot."





His sport has become increasingly perilous. Winters are warmer and the ice is thinner. "When you get out on the ice," Tsagareshvilli said, "you have to keep your ears pricked" for the sickening sound of the shelf cracking. Still, he comes to the gulf whenever he can. "It's a primeval instinct," he said, leaning forward and lowering his voice as if to disclose a state secret. "The first men were hunters. There is this collective urge to fish. As you leave the city, you become a hunter again."





In the past decade, Vadim Bazikin, a 42-year-old helicopter pilot who owns a private charter service, has rescued about 2,500 fishermen from the St. Petersburg area. Though not a fisherman himself, Bazikin has come to know the fraternity pretty well; he has picked up one man six times.





"Maybe you have already noticed the fact that fishing is a sort of poetry, but with a line in your hands," he said.





Bazikin's charter service charges handsome fees to take foreign anglers to remote rivers, fly United Nations officials around Sierra Leone and pluck monuments that need renovation from the tops of buildings in St. Petersburg.





But he is on call 24 hours a day during the ice fishing season. When the call comes, he and his crew head for the ice.





They're never sure what they will find. Sometimes it's a lone fisherman with a cell phone. Sometimes it's a mob. Two years ago, Bazikin arrived at a drifting floe to find 800 fishermen clamoring to escape. With the helicopter loaded and people hanging from the landing gear, he ferried load after load across a half-mile of open water, his aircraft skimming the waves.





Sometimes, the fishermen are grateful. Sometimes, they are blase. Once, Bazikin rescued two fishermen on western Lake Ladoga. When he asked where they wanted to go, the men said they wanted to land on the ice near the eastern shore.





"We hear there are a lot of fish there," one said. Bazikin took them back to shore.





Sometimes, the fishermen don't seem to want to be rescued. Bazikin spent a frustrating night searching a large floe for seven reportedly stranded men.





When he returned after daybreak, he finally spotted them hiking along the ice. They refused to board the helicopter until Roman Yurinov, a rescue specialist who works with Bazikin, threatened to beat them.





They worried that police might arrest them for ignoring warnings not to fish on the ice shelf, or that they would be charged the $850- an-hour cost of the helicopter. (Bazikin bills the government, he says, but authorities don't always pay.)





Bazikin asked the fishermen where they had been the night before, during his search.





"We covered ourselves with white blankets," they said.





The government weather service doesn't forecast conditions on the ice shelf. Instead, it settles for warning the public that ice fishing near open water is dangerous. "The official approach of government," Yurinov said, "is to prohibit, to fine, to scare people."





It doesn't seem to work. Hundreds of fishermen trudge out on the ice every day in winter, even in bad weather. Several years ago, rescuers said, 44 fishermen waited on a disintegrating floe while authorities argued over who would pay to send a helicopter to rescue them. The floe broke apart 15 minutes before the helicopter reached them. Six people drowned.





Andrei Bagotsky, head of the St. Petersburg Emergency Rescue Service, which operates its own helicopter, said officials don't seem to care about the death toll on the ice. "Unfortunately, those to whom the power belongs don't understand how valuable a person's life is," he said.





Like anglers everywhere, St. Petersburg's have a reputation for stretching the truth. Last week, a fisherman claimed that a compatriot slit his wrists with a razor blade while stranded on an ice floe and died a few minutes before the helicopter arrived. Some fishermen commit suicide, he said, rather than face death in the icy water. Rescue experts, though, said they had never heard of any such thing.





Yurinov was riding the St. Petersburg tram when he overheard two men talking about ice fishing. One bragged that he had assisted rescuers as they helped his friends climb out of the frigid waters of the gulf and into a helicopter.





Yurinov tapped the speaker on the shoulder.





"Stop telling lies," he said. "I'm the guy who rescued you."



More adventures in Russian ice fishing can be read in this
story from the Bootsnall.com website.