Days 5 and 6, New Year's Eve and New Year's Day in Rostov the Great
- So now we are in Katja's hometown,
Rostov Veliky
. If you know nothing about Rostov V., it is worth checking out
(these photos are from late September).
We were returning there to spend the holidays with Katja's family, which really was one of the main reasons I had come ... to spend a real Russian New Year's with Katja. We had spend time decorating the New Year's Tree with Sergei mostly in charge on the evening of the 30th (this ritual not really differing from decorating a Christmas Tree). Today was going to be spent largely on food preparation. We were to go to Katja's aunt and uncle's place in the afternoon, where Sergei and I would enjoy a trip to the banya. Then we would have a large dinner in the late afternoon, and return in the early evening to Katja's parents home for a supper and the remainder of New Year's.
Through all of this, I really didn't have all that much to do. Katja and I attempted to get some train tickets for our New Years day return to Yaroslavl and the Exeter House. This was thwarted by the woman (aka the Ticket Nazi) at the ticket office telling us "No tickets for you! Come back tomorrow, maybe I will feel like selling them then!" She actually said that they didn't know yet what tickets might be available, which I find hard to believe. I think where we were just short riders (about an hour from Rostov V. to Yaroslavl), they didn't want to exclude others from making purchases who might be travelling from Moscow to a more distant region. Still, the bluntness or rudeness of the woman surprised even Katja. Yes, yes, we all know the cliche ... the idea of friendly customer service hasn't really arrived in Russia yet. When you do get service that is friendly and timely, it really should be appreciated. That being said, I should also add that Russians are nowhere near as dour or unfriendly as many portray them. I am often pleasantly surprised. Later in this trip, I will come to th
e conclusion that Katja brings this out in Russian people also.

After our failure at the ticket office, we were off to get an appropriate gift for Katja's aunt. I had brought a bottle of Bailey's Irish Creme as a gift, but it was traditional that we bring something else for the dinner host. Natasha had suggested a plant, so we were going to find something at a flower shop. Also, I had forgotten my gloves back in the US, so this was a perfect opportunity to visit the market in Rostov and buy a pair of nice Russian-style fur gloves for me. I also had in mind to get some fur-lined mittens for my daughter, Rebecca.



Real Fur Gloves!


The woman selling the fur gloves was quite a character ... born saleswoman, I would say. Katja did most of the talking, as my Russian is suspect. The saleswoman picked up on the fact that I was a foreigner (sometimes I pass as Russian, but only if I keep my mouth shut). She asked where I was from, and was

VERY EXCITED

when she found out I was American. We tried on a couple of pairs, and found some that Katja and I both approved. Postscript to this purchase - The week after I left, Katja had decided to get some fur gloves for my son Tyler also. She returned and the same saleswoman was there, telling Katja how her
gloves were

SO GOOD THAT EVEN AMERICANS BUY THEM!

She had been using my visit to her booth as a marketing strategy! I should send that woman a little American flag and placard reading "Fur Gloves So Good, Even Americans Want Them!" She apparently didn't immediately recognize Katja, so Katja laughingly explained to her .... "oh yes, they are so great that I am here to get a pair for his son also!" It was pretty funny. I wish I had made a photo of that saleswoman just to show you here. I would be quite impressed if these fur gloves were made by her or actually made in Russia. Unfortunately I suspect from the label that they are imported from China or something.

They are real fur, however; Sergei tested them with a match as soon as we returned home with them. All natural products are generally considered superior in Russia. I myself think that some natural products are better but some man-made materials can out-perform mother nature ... but it isn't a topic for debate here. Just remember when in Russia ... natural is good, unnatural is bad. The idea of natural vs. unnatural
and its implications will be a topic for another post, where I will expand greatly on this idea and its implications in world
culture and attitudes towards and even within the United States. You think I am joking, but this is really one of my pet peeves.



Ooh! Снежная королева


One great discovery that we made at a bookstore is an illustrated Russian version of Hans Christian Anderson's "The Snow Queen"

(Снежная королева)

. The illustrations are what really sold me on this book to give to my kids. The illustrator is Vladislav Erko

(Владислав Эрко)

and I would have to say he is quite brilliant. From what little I can gather, he lives in
Ukraine and has done illustrations for Russia or Ukraine editions of Alice in Wonderland and the Harry Potter series as well. Very detailed and richly designed stuff, I would definitely consider just buying a print as a gift or to hang on my wall above my desk. I will be doing a post about Mr. Erko a bit later on, I am still researching where you might be able to buy copies of his work or find him elsewhere in print.



Ты думаешь, что я не человек?


Our errands were complete, so we returned home to find Sergei and Natasha getting busy for the holiday. Along the way, I happened to bump shoulders with some Russian guy (he was drunk). I am being polite to say I bumped shoulders, he sort of banged into me as we walked around a corner. He wasn't a very big guy and he started yelling some things at me. He ostensibly wanted to ask a question, but I realized he also had an alterior
motive ... to start some trouble with a guy bigger than him. What is it with short guys anyway? I kept my eyes front and kept walking away from the Russian Napoleon. I understood only a little bit, but Katja confirmed that he was trying to start a fight, yelling "You don't think I am a MAN!? COME BACK HERE!" He wasn't alone though, and his buddy kept him walking the other way. Interesting to see that drunken billigerent behavior isn't exclusively an American trait. Katja and I both think he hadn't realized I was American, or else he might have been more persistent.



Ahhhhh .... BANYA!

So now it was time to head to Katja's aunt and uncles place for the all-important banya. As I had done this only once before, I was going with Sergei again. Sergei is a
banya master
- he brings to
the banya the same interest, curiosity, and knowledge that he displays in all things that interest him. He goes to the banya every week and I would be willing to bet that he can write a short history of the Russian banya and how it differs from sauna
, etc.

Victor (Katja's uncle) has a rather nice banya. I've tried to make photos of it, but they always come out very steamy (duh!) ... but it is nearly as nice as this one on the left (which is some finnish style sauna, but follows some of the same principals. It is a white sauna with a wood stove in the same area as the predbannik (предбанник) just outside the entrance to the steamy banya. I guess Victor and Sergei collect the white birch branches for the venik themselves (you can buy them in the store, but of course this is inferior to collecting your own). There are two faucets in the banya, one for hot and the other for cold water. You have a ladle for throwing water on the exposed part of the stove and making steam (chut' chut', pozhaluista!). Unlike this arrangement in the photo, the benches are closed off and the wood is slightly inclined so water placed on it drains to one end. The wood benches get quite hot themselves, so water placed on them before sitting is essential. There are two large bowls for water (one for each user) and felt hats to wear on your head (you think I'm joking? I'm not) that look sort of like Kyrgyz-style felt kolpaks.
In between steam sessions, we went out into the snow. It wasn't quite deep enough for a tumble in the snow, but we found some clean stuff and rubbed it on our upper bodies ... before returning to the steam. I felt much more comfortable this time, than my first banya in September. I'm thinking it would be great to do this once a week ...

Hey Victor, how do I build a banya anyway?



Having throughly steamed ourselves, it was time to eat ... we were running a little bit behind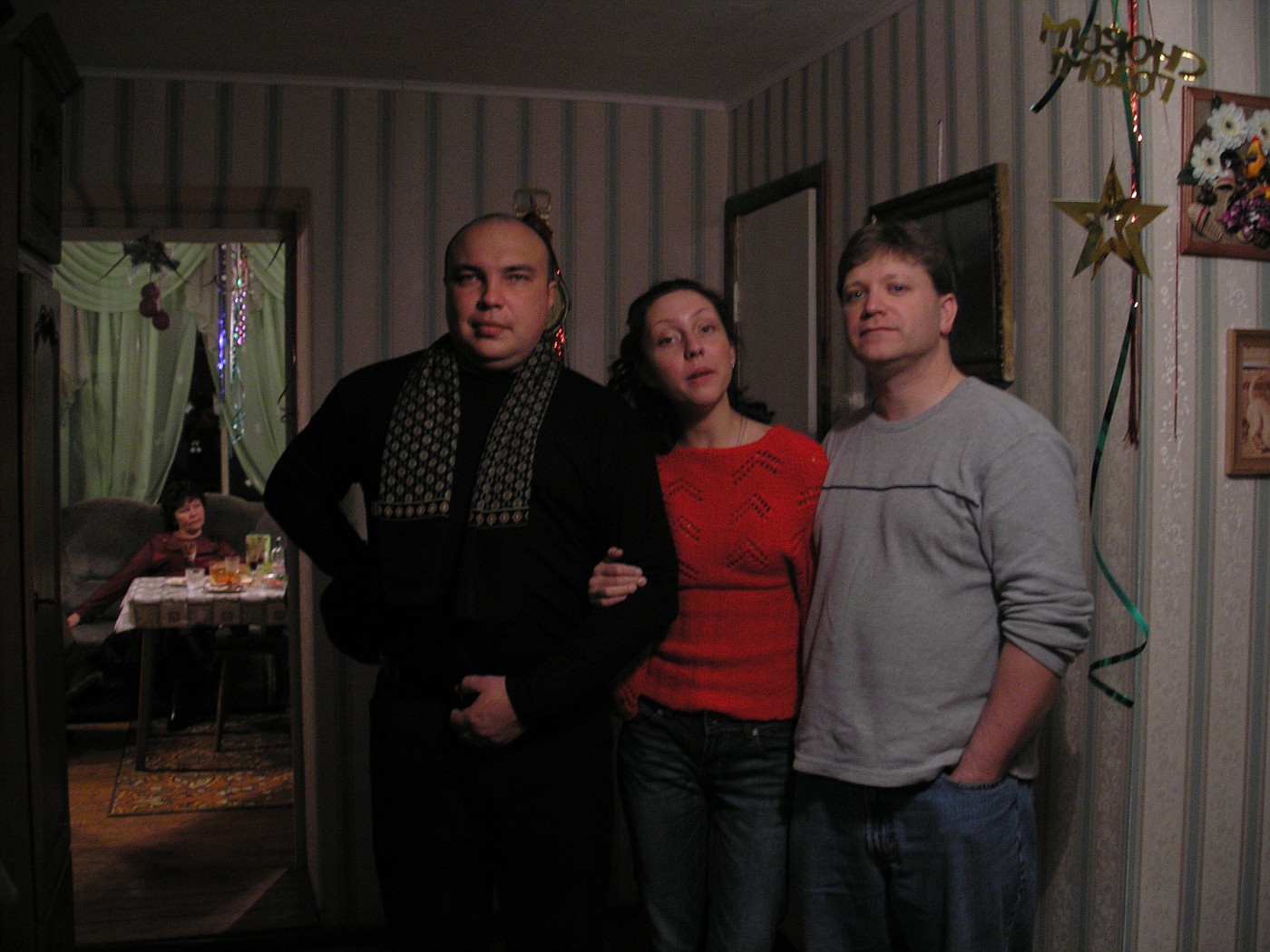 schedule anyway. I was sorely under dressed for the occasion, but Katja told me not to worry about it. I'm American, so I can get away with it, I guess. I should have made more photos of the food, Oleg (Katja's cousin ... his name is properly pronounced almost as "Alek") made quite a good salad and some spicy sweet pork as well. He fancies himself a chef, but Katja has a difficult time with fatty or spicy food ... so she is never able to enjoy his cooking. Oleg, Katja, and I are stage right
------->

During dinner, Viktor had it in mind to get me drunk.
;">
He was nearly
successful, I matched him for about the first 4 or 5 vodkas during the meal, but I am thinking .... long-range (it was only about 6 or 7 pm at this time) and I didn't want to pass out under the table by 11 pm. I took a sip of orange juice around the 6th toast and he pronounced himself the winner ... I'm thinking that we hadn't made it to the finish line yet!

:-)

He's running a sprint and I am looking to run a marathon, I suppose ...

I found out later that he "fell asleep" before midnight. I joked with him and asked how his head was the next day. He actually seems like a rather good-natured man, he does rather well in business for himself
(although I guess he did even better under communism). Sergei did rather well and steered clear of vodka for the evening, choosing to partake of some white wine instead. Clever man!

So now Katja, Ira (her other cousin) and I are off to Katja's house to finalize some of the food preparation. They also were trying to pry me away from her Uncle Viktor, as he was enjoying drinking too much with me around! I must encourage bad habits ... shame on me! I was trying to be in the spirit, singing some songs and laughing it up on the phone with Katja's dear groupmate Anja ("Oh Anja, our New Year's is terrible without you!"). Apparently I was a dead-ringer for being drunk, although I figure 6 vodkas in two hours while eating isn't too bad. We had a nice frosty walk home in the dark ... there is something about winter, snow, and the night time that I find peaceful.


Well, except for the racket I was making.


At Katja's home we set about chopping more onions for the bizhbarmak (Бижбармак) we were having later and shredding beets and carrots for salads. I tried to do most of the slicing. Natasha has a device for this, like something Ron Popeil would sell, but perhaps more sturdy. I was
schooled on the proper technique, apparently it is better to lift the holder each time and put it down and make a slice ... rather than the back-and-forth sawing motion I employed. Still I managed to do ok and it put me to some task other than drinking for the next hour or so!


Now everyone was dressed and ready for the late evening celebrations. I had a Santa Claus hat that I dragged out, Katja had bunny ears and Sergei has a sort of jesters hat with bells. Yep, she changed clothes from the red tunic style sweater she had on earlier. Later, Alexander their next door neighbor would show up with a sort of .... dog costume. Was rather festive actually.


Dinner was great, of course .. and I had only a little more vodka (Katja would kill me if I had too much ... very poor form, you know). Natasha is a rather good cook and she had been working on aspects of this meal all week (such as the ballerina cake which took over a day to prepare). I have a good photo of her, I'll show her being rather dignified in a midnight blue velvet dress. We gave out New Years gifts also, I had a stash of items I had carried from the US ... and I got a Russian flag and some other excellent items in return. Katja knows all my secrets, and is very thoughtful (are you reading this, dear?)

Of course, the big highlight of the evening was Putin's speech, pre-recorded and timed rather well to be shown just seconds before the stroke of midnight (I was told it is usually about 10 minutes before, but this year it was finished just moments before). I suspect he was in front of a blue screen, and his background was almost an implausibly perfect image with the night time view of the Kremlin walls, a spotlight on a proudly waving Russian flag ... really not subtle but rather nicely framed. So what did Putin say on this festive occassion? Something to the effect of:



"My fellow Russians. I speak to you tonight ..................................... to reflect on our many challenges .... in 2005. ........................................... It was not an easy year for us .............................................. but despite this we had .... many proud successes .................................... and we look forward to an even greater year in 2006.

С новым годом!!

"



Man, that guy can draw out a dramatic pause like no one else. It is like Mr. Rogers if he had become a politician. He also manages these small ... pursing of the lips ... as if he is seriously contemplating what he just said, or weighing the words he is about to speak. Very serious, very
DIGNIFIED.
It is important to remember that word, boys and girls, when speaking about Russia. Despite so many roots (or maybe because of these roots) in peasant culture, Russians are often dignity-minded. Yeltsin was sort of a buffoon to many of them (well, ok, I guess I can see that). Bush's poor manner of public speaking and overly blunt and assertive behavior doesn't lend him much dignity in their eyes either. Besides, they are mostly all sure he still drinks like a frat-boy.