Day 3 and 4, Yaroslavl -
Well, so now we are in the Exeter House in Yaroslavl. We chose this place because renting a decent flat for a week or so isn't very easy in Yaroslavl. I mean, you can find a flat of course, but Katja didnt care for any of them. The Exeter House allowed us to do some of our own cooking, which was something Katja and I wanted to do together.
By the way, I had a small surprise our first night there. We were trying to cut some meats and cheese and commenting that the Exeter House supplied dishes and cutlery, but no sharp knife. No problem, says Katja ... as she smoothly pulls out her knife, flipping it open like a switch blade with a solid "click"!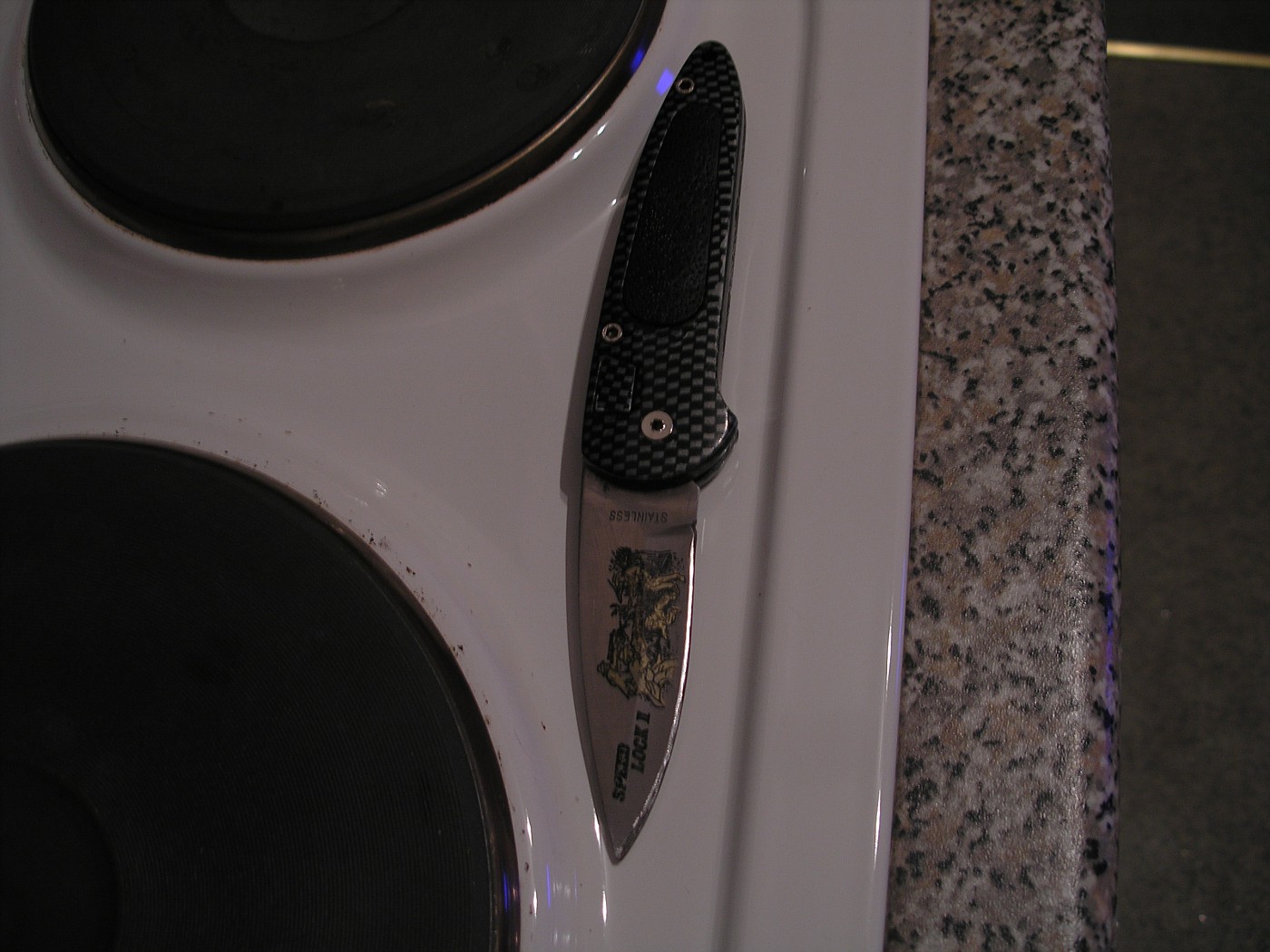 EEEK! Hey, these Russian girls come armed with knives! And they know how to use them, apparently! I knew that Sergei, Katja's father, was a knife afficianado. He collects them and does knife throwing and such. Apparently he gave Katja a knife to carry around also. I was going to inquire if he showed her how to use it, but was afraid that she might answer "Yes, and if you do anything that I don't like, I will be taking your balls home with me ... "
Katja actually says that all good Russians should carry a knife. Something to keep in mind, maybe.
We didn't do much these days in Yaroslavl, to be honest. It was the first quiet time that we got to spend together. We did pick up tickets for our other train trips ... to Rostov and back. Again, we waited in a line. It isn't always like that here, despite the long-standing image in the West. But then again, sometimes the service is slow and buying train tickets is a frequent requirement.
Breakfast was waiting for us each morning at the Exeter House ..
which was actually a rather good deal, all things considered. They offered us our choice of eggs, how we wanted them cooked, some sausage (that was basically a hot-dog .. I don't care what you call it Katja, every American knows a hot-dog when they see it!). We opted for blini one morning, but as it turns out they didn't make the blini from scratch, but had some premade frozen ones. Not so great and
rather sweet for my taste.
I also was introduced to tvorozhnoye while in Yaroslavl. I guess I hadn't noticed it in the stores last time, or didnt take the time to read what the label said. Apparently it is sort of like ... whipped cottage cheese (or more accurately, farmer's cheese) with sugar, fruit, etc. Tastes like a less tart yogurt. I'm sort of surprised that it isn't sold in the US, I think it would be a big hit as a substitute for yogurt.
Last note about Yaroslavl ... man, the water is nasty in that city. Sort of a rusty brown when it comes out of the faucet, and smelling like something from a swamp. Katja says you are supposed to boil it before drinking (I would guess for potential parasites like giardia) but neither she nor I were going to drink the stuff (and she was there for 5 years while at University). I had read online since my return that the city of Yaroslavl got a loan in 2003 for improvements to its water treatment systems ... but you couldn't prove it by me. For all the Russian love of all things natural, that is some really nasty water in Yaroslavl. The electric teapot in our room, while relatively new, had the black and brown look of corrosion and metal deposits. Before I offend someone from that city, I shall end my rant about that.