Day 2 - Moscow to Yaroslavl
Let's see. I drove to JFK on Monday, flight leaves Monday evening, land in Moscow Tuesday at noon, make it to the hotel in the early afternoon, and basically showered, ate, and slept until Wednesday morning. So now Katja and I have to get our tickets for the train to Yaroslavl. We could have taken the metro to the Yaroslavski station (near the Komsomolskaya Metro station), but given the weight of our bags we opt for a taxi. We ask the hotel to call a taxi for us, and we walk in the light snow to Arbat Ulitsa to change some dollars to roubles before he arrives. I wish I had taken my camera with me for this walk; I'm not sure what I was thinking. It was the first time that I actually thought Moscow was rather pretty, with a light covering of snow everywhere.
Of course, it is also slippery as heck. I had on a new pair of light boots, with what I consider an aggressive tread ... and my feet were sliding with every step. Seems all those Moscow feet polish the hard thick sidewalk ice into a perfectly smooth sheet. I wonder how many babushka's break a leg walking on this stuff every Russian winter.
I also learned that you don't walk too close to the buildings in Moscow in the winter. Ice and snow easily can drop off the poorly insulated rooftops and the slickest area of the sidewalk is at the fall-line of the roof edge anyway. Better that you walk on the curb or in the street.
The driver arrived promptly and we were soon on our way through the snowy streets. This guy was really moving. I have the feeling that these Moscow taxi drivers take a certain pride in being able to drive like a maniac. If that is the case, this guy was the best ... timing his acceleration and breaking on the snowy streets, shooting through gaps in cars at stoplights, skidding to perfect stops just inches from the car in front of us.
Katja was a bit worried that there might not be any train tickets available, as there are so many people traveling for the holidays.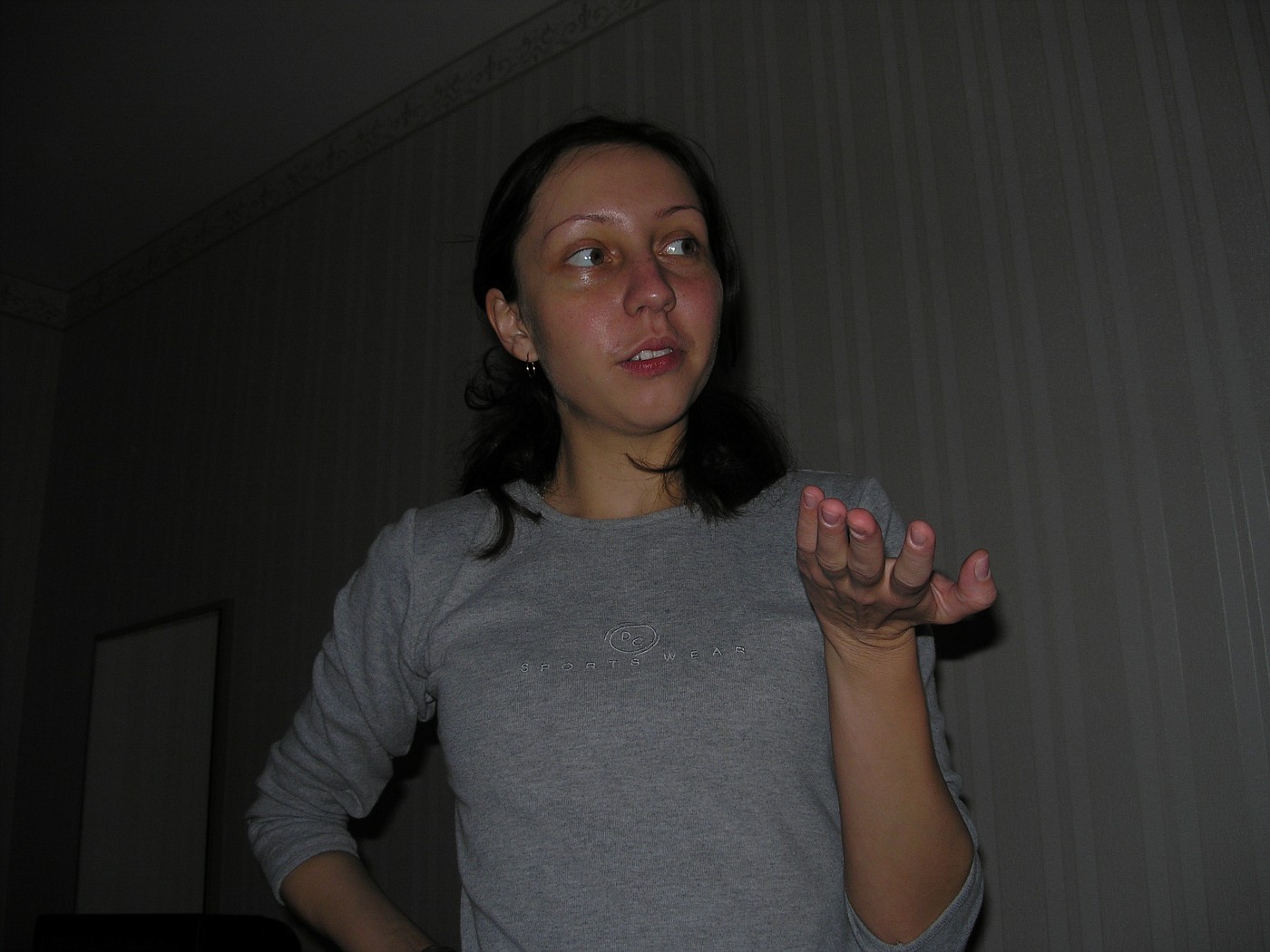 If you don't already know this, you need to present your passport to buy train tickets in Russia. Heck, you have to present your passport to change money and to check into your hotel also. Had I known that train tickets might be a problem, I could have used a travel agent to get the tickets before hand. But as it turned out, we had no problems getting 1st class tickets for the express to Yaroslavl, despite our taxi driver assuring us it would be quite impossible (he was jockeying for a chance to drive us ... not likely).
So now we have about 3-1/2 hours to kill. We could have gone
downtown and back, and probably Red Square would look great in the snow. But everything always takes longer in Moscow than you think it should, so we decided to find a warm place to eat and have some tea. We popped into a department store nearby with some restaurants and ate at Teremok. Actually rather good and large blini and cheap. Katja was suspicious, but she has to be careful what she eats, so I can't blame her for picking and checking everything.